Memo Acevedo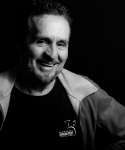 Memo Acevedo, percussionist, drummer, and educator in New York City where he leads his Manhattan Bridges Band. He pioneered Colombia and Spain's Rock music scene during his teens and later, Toronto's Latin Jazz scene. Living in Colombia, Spain, Mexico, Canada, L.A and NYC, he's performed and record with Frankie Valli, Tito Puente, Hilton Ruiz, Gonzalo Rubalcaba, Toshiko Akiyoshi, Gregory Hines, Tom Scott, Stephen Stills, Mark Murphy and Broadway's "The Lion King". His CD "Building Bridges" features Tito Puente, Dave Valentín and Gonzalo Rubalcaba. Awards include: a Juno, Rubbermaid TV Ad's, Two Percussionist of the year, KoSA's and Montreal Drum Fest's Lifetime Achievement Awards, PAS President's, Lehman College 'Jazz Distinguished Artist' and the Cuban Ministry of Culture's award.
Pat LaBarbera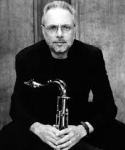 "Pat has tremendous musical ability beyond technical facility. He has great power of concentration to detail and is totally committed with body and soul."- Elvin Jones. Pat LaBarbera is well-known for his solo work with the bands of Louis Bellson, Woody Herman, and for seven years, touring and recording as featured tenor saxophone soloist with the Buddy Rich Band. He has performed and recorded consistently with Elvin Jones since 1975. LaBarbera has played on every major network television show including The Ed Sullivan Show and Johnny Carson's Tonight Show several times. He has worked with the biggest entertainers in the business including Frank Sinatra, Tony Bennett, Dizzy Gillespie, Ella Fitzgerald, Chick Corea, Woody Shaw, and McCoy Tyner, Brian Dickinson, Neil Swainson. Randy Brecker and Don Thompson. He has been awarded a Juno for Best Mainstream Jazz Album and 'Jazz Report' awards.
André Mehmari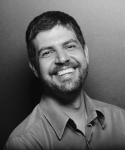 André Mehmari is considered one of Brazil's most talented and active musicians, as a pianist, composer, and arranger, both in Popular, Jazz and Classical music. His compositions have been performed by leading orchestras like Orquestra Sinfônica de São Paulo and the São Paulo String Quartet. His career in Jazz has led him to major festivals in Brazil and abroad, including Umbria Jazz (Italy) and Juan Les-Pins (France). Born in 1977 in Niteroi, Brazil, he began music studies with his mother at the age of five, and later, organ studies at the Conservatory of Ribeirao Preto, SP. At age ten, having taught himself Jazz improvisation, he wrote his first compositions. Moving to São Paulo in 1998, he studied Classical piano at the University of São Paulo and shortly after, he won the prestigious Visa Award for Brazilian Music. Recent works include an orchestral Suite for the Pan American Games' Ceremonies in Rio de Janeiro as well as the closing ceremonies of the 2016 Olympic Games in Rio. He's written the Music Score for the first all-Brazilian Netflix Series, 3%. Convincingly at ease in nearly all possible contexts, from Mozart to Monk, Mehmari possesses an impressive classical technique that is never just paraded; there's conviction in all he plays. His formidable improvisatory imagination and uninhibited lyricism have made his presence on any recording a strong assertion of its high quality.
Chico Pinheiro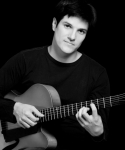 "Chico Pinheiro is the next generation of great brazilian musicians. He's fantastic, somebody to really keep your eye on."- Bob Mintzer. Born in São Paulo, Chico Pinheiro is considered to be one of the major creative forces in Contemporary Brazilian Music and Jazz today, both as guitarist, arranger, composer and vocalist. With several albums as a leader and many Awards as Downbeat Magazine's Rising Star - guitar, he has collaborated with the 'cream of the crop' of Brazilian artists such as Ivan Lins, Rosa Passos, Joyce, Edu Lobo, Dori Caymmi, João Donato, Johnny Alf, César Camargo Mariano, Elza Soares, while also making his mark internationally with Placido Domingo, Brad Mehldau, Esperanza Spalding, Dianne Reeves, Nnenna Freelon, Bob Mintzer, Peter Erskine, Bob Mintzer, The Paris Jazz Big Band, The Swiss Jazz Orchestra, The Danish Radio Big Band, The Seasons Guitar Quartet, the Orpheus Chamber Orchestra, Cachaíto Lopez, Mark Turner, Chris Potter, Eddie Gomez, Claudio Roditi and Giovani Hidalgo , amongst others.
Dave Restivo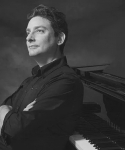 "...one of the most burning piano players!"- Kenny Werner. David Restivo is one of Canada's most respected and influential jazz artists. He is well known for his work with Rob McConnell's Boss Brass and Tentet, the Mike Murley Quintet, and legendary songwriter Marc Jordan. He has also performed and recorded with Dave Holland, Jon Hendricks, Kenny Wheeler, John Abercrombie, Jerry Bergonzi, Mel Tormé, John Pizarelli, the Woody Herman Orchestra, Pat LaBarbera, Carla Bley, Steve Swallow, George Garzone, Howard Johnson, Ingrid Jensen, Christine Jensen, Kevin Mahogany, Randy Bachman (BTO/Guess Who), David Clayton Thomas, Molly Johnson, and many other outstanding artists. ​He is a 3-time winner of the National Jazz Awards' Pianist of the Year Award, and is listed in the current edition of Canadian Who's Who. David was voted Toronto's Best Keyboardist in NOW Magazine's "Best of T.O." readers' poll in 1998 and received a Juno Award for his work on the 2001 recording The Rob McConnell Tentet (Justin Time).
Liz Rosa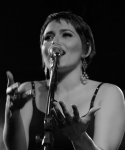 Liz Rosa is a Brazilian singer born in Natal and rooted in Rio de Janeiro. She began her musical career in 2002 at age of sixteen and in 2012 she released her debut album ´LIZ ROSA´. Liz's influences from North-East Brazilian rhythms worked perfectly with the Samba-Jazz flavor on her CD. Since then, Liz has captured the attention of listeners and critics worldwide with her interpretations of the Classic Brazilian Songbook. Liz has appeared on famous TV Show Som Brasil as well as in Jazz festivals and Theaters across the country, including performances with Rio Grande do Norte's Symphony Orchestra, and internationally at the Cotai Jazz & Blues festival in China, International festival of Punta del Este in Uruguay and countries like Latvia, Poland, Portugal and Austria among others. After establishing her presence in the Jazz scenes of Brazil and Europe and sharing the stage with many of the premiere Brazilian artists including Joao Bosco, Leila Pinheiro and Roberto Menescal, Liz moved to New York City recently where she's already making waves pursuing the next level of her career.
Jackie Richardson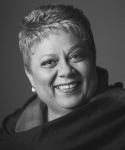 Jackie Richardson possesses a powerful and supple voice that is a perfect match for her vibrant stage presence. Her unforgettable roles have ranged from theatre performances in Ain't Misbehavin' (Dora), and Cookin' At the Cookery as Alberta Hunter (Dora); film performances in Turning to Stone as Dunk (Gemini), and Sins of the Father (NAACP). She has starred opposite Christopher Reeve, Sidney Poitier, Jane Seymour and Keifer Sutherland. Jackie has also performed or recorded with countless musicians and ensembles, including Joe Sealy, Norm Amadio, Salome Bey, Doug Riley, Ray Charles, Alannah Myles, Celine Dion, Anne Murray, Oliver Jones, Andrew Craig, Molly Johnson, Divine Brown, Debra Cox, Mavis Staples, Guido Basso, Maureen Forester, Shirley Eikhard, Albert Schultz, Brent Carver, Michelle Wright, the Nathaniel Dett Chorale, Faith Chorale, Toronto Symphony, Nova Scotia Symphony, and the NAC Symphony. Her awards and nominations include JUNOs, Geminis, Jessie and Bessie's, Maple Blues and a Canadian Black Achievement Award for the Arts.
Reg Schwager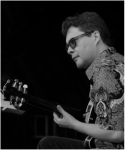 A leading figure of the Toronto jazz scene, Reg Schwager is a four-time winner of Canada's National Jazz Award for Guitarist of the Year. Born in the Netherlands, Schwager moved with his family to Sudbury, Ontario when he was six, and by age 15 he was playing jazz gigs. From 1994-2004, Schwager worked with George Shearing. He has also performed with Diana Krall, Peter Appleyard, Rob McConnell and many others. He can be heard on more than 200 recordings with artists including Junior Mance, Gary Burton and Mel Tormé. CD releases under his own name include Songbook, Delphinus, Arctic Passage, Duets, Chromology, Border Town, Resonance and – along with bassist Don Thompson – Live at Mezzetta and One Take: Volume Three.
Howie Silverman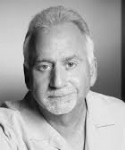 "One of the finest brush players I have ever worked with" - Joe Williams. "Keep that driving rhythm going, beautiful man, beautiful!" - Dizzy Gillespie. Howie Silverman began his professional music career at the age of 15 when he joined the Art Train Trio for a 3 month engagement in the summer of 1967. He studied at the Ontario College of Percussion. At the age of 17 he went to New York to study with the world renown drum teacher, Jim Blakey. Eventually by popular demand by many of his Canadian students, Jim moved to Toronto. Howie continued his studies with Jim for another year and then went on to study composition and piano. At the age of 18 Howie formed his own jazz quartet, called SummerSong. He had great success with his ensemble, performing and recording on the Toronto music scene. He eventually expanded the quartet to an 18 piece big band, writing and arranging his own compositions. As his career developed, Howie became a well sought after session musician and touring drummer. He performed, recorded and toured with Dizzy Gillespie, Joe Williams, Hagood Hardy, Phil Nimmons, Peter Appleyard, Moe Koffman, Art Farmer, Zoot Simms, Ed Bickert, Phil Woods, Doug Reilly, Rob McConnell, Lenny Breau, and many others.
Kevin Turcotte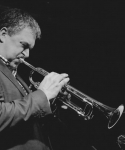 Kevin Turcotte grew up in Sudbury, moved to Toronto in 1984 and has enjoyed a busy career as a freelance trumpet player for the last 30 years. He has played on over 200 recordings in a wide variety of musical genres with everyone from Bruce Cockburn to Andrew Downing to Measha Bruegergossman. He been nominated for over 30 Juno Awards for recordings with Barry Elmes, Michael Occhipinti and Rob MCConnell's Boss Brass. In 2016 he recorded all the trumpet parts for the Chet Baker movie Born to be Blue starring actor Ethan Hawke. The movie went on to win best soundtrack and best original song at the 2017 Canadian Screen Awards. Recently Kevin's quartet completed a 2 week tour of Chile promoting the film while performing instrumental music associated with Chet Baker. Kevin teaches in the Jazz Program at York University.
Dave Young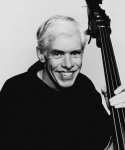 "To my way of thinking, Dave Young is one of the most talented bassists on the jazz scene. His harmonic sympatico and unerring sense of time have kept him in the foreground of the jazz picture." -Dr. Oscar Peterson. Dave Young has performed and/or recorded with Oscar Peterson, Lenny Brau, Clark Terry, Harry "Sweets" Edison, Zoot Simms, Joe Williams, Oliver Jones, Kenny Burrell, Cedar Walton, Hank Jones, Nat Adderly, Peter Appleyard, Gary Burton, Barney Kessell, Ed Bickert, Ranee Lee, Marcus Belgrave, Don Thompson, Kenny Burrell and James Moody. Recent CD's as leader include duet performances with Oscar Peterson, Cedar Walton, John Hicks, Mulgrew Miller, Tommy Flanagan, Ellis Marsalis, Barry Harris, Kenny Barron, Renee Rosnes, Cyrus Chestnut, Oliver Jones and Cedar Walton. He is a member of the Order of Canada, winner several times of the National Jazz Award "Bassist of the Year", and is a Juno award winner.